Kapil Srivastava
🎸 गिटार बोलता है 🎸Guitar Speaks
My life journey can be seen in 4 steps. I started my journey as a professional guitarist (in my teenage years), evolved as an educationist, and then entrepreneur & now touching people's lives using music as a tool with whatever ideas nature showers me with. There are so many things in between but not worth mentioning.
The guitar became my full-time work after my 12th class exams; I started performing professionally even before I could start the 1st year of college. When I look back, I see the guitar instrument was more like a merudand (spinal cord), the center of gravity of my life. Even before I could understand (and understanding even now), I have already given 24 years with guitar, possessing it like a kamandal (ewer) of a monk, sprinkling something out of it every day, unconsciously and in an undisciplined way.
MY GRATITUDE TO SOME DEDICATED PEOPLE
Who worked with me or loved my works
Absolutely Mesmerising & Beautiful
Honored to be part of Guitarmonk
Privileged to have done duets with you & being part of Guitarmonk
Delighted to know about you. Very Innovative.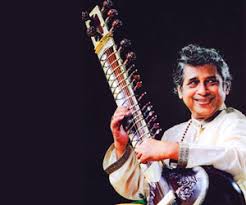 Thankful to be part of Guitarmonk



Friends, I am a Composer-Guitarist, I came to this extent by non-confirming the contemporary work arenas of a guitar player. Starting from the street guitarist to solo lead plectrum guitarist, exploring every possible dimension of guitar success in my country from music to Irfan Khan's Bollywood Movie, Ad Films, TV-Serials, Albums, etc. Assignments for Govt. Channel Doordarshan, HMV Sa Re Ga Ma, T-series, etc. I have done hundreds of Live Solo Guitar Concerts and performed duets with Legends of Indian Music Industry as Ustad Sultan Khan, Grammy Winner Pt. VM Bhatt, and others. Currently, I am doing a world record guitar journey of Amazing India and focusing on the sound of Guitar on traditional Indian Ragas & Film Music via Indian Guitar Radio.
I happened to learn from two kinds of masters, viz. (1) Indian Classical and (2) Western Classical. From playing and understanding the music pieces of JS Bach, Beethoven to Pt. Ravi Shankar, Ustad Vilayat Khan, and several Indian Composers, etc. I have always been focused on lead solo instrumental Guitar. And I think I have just started….
Duet with VM Bhatt (Grammy)
STATE AWARD (Guitar)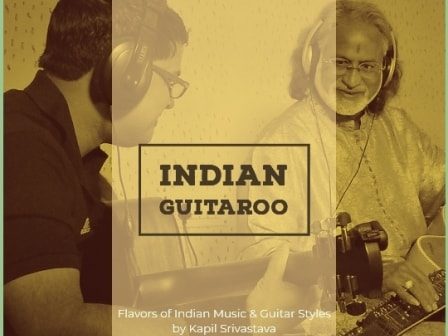 Indian Guitaroo, Vol. 1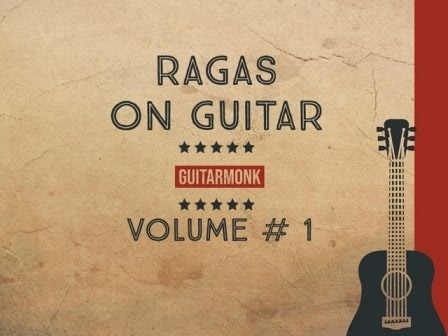 Ragas on Guitar, Vol. 1
Ragas on Guitar, Vol. 2
Album Launch, Elevate Noida
Indian Guitar Radio
Doordarshan | T-Series | Saregama, HMV | Guitarmonk Records
Women's Day
Honda
Australian High Commission
Tyacon
Delhi Secretariat
As aN EDUCATIONIST / TEACHER
I am grateful to have been a facilitator in bringing the Bachelor Degree of Guitar in India as well as the Music Grade Exams. As the founder of Guitarmonk, which is the largest chain of Guitar Schools in India, I was invited to judge several inter-college competitions, inter-state competition for Delhi University, Amity University, etc. Got the chance to work with several institutions (but not limited to) such as Rai University, Subharti University, Ansal University, Arunachal University, DPS International, etc. I became part of many corporate via conducting music workshops, lecture demonstrations, and other creative employees' engagement activities.
I am fond of writing and so far time has permitted me to write 7 titles focusing on guitar. I happened to contribute several articles for platform magazine, govt. magazine and blogs. My write-ups are going to be at My Blog. As part of guitarmonk, conducted several events and exhibitions.
Some other important education milestones include – Forming the 1st Union of Guitarists participated by thousands of guitar players, developed the world's 1st official ragas course on guitar applied by students worldwide, developed a credit-based curriculum for universities and corporate (applied by several institutions) and participated by thousands of students.
As an entrepreneur, I have conducted several franchise exhibitions, musical events, book fairs,
and consulting institutions and corporate about music engagements.
---
These are some of my discoveries along the path
Music aligns your mind; it's an absorptive meditation too. When a person learns an instrument or plays guitar for even 15-30 minutes, it brings them to a stage of no-mind (zero thoughts) and that too so easily. It is how Guitar learning is meditative & healthier. We start aligning with nature by playing music. I have several experiences of the guitar effects physically and mentally. Try to imagine how a guitarist practice to strike a balance between fingers, hand, arm between two strings (less than an inch distance apart). While the fingers are dancing, swinging, adjusting. It is followed by heartfelt sound & the magic of music. I have experienced music as a way of bringing harmony to people's lives. It is one of the tangible ways for people to relate with, a bridge to connect to different dimensions. Here are some of our social campaigns via music.